Title: Dreams Aren't Reality
Author: Lindsey
Feedback: much appreciated!
Pairing: sort of Roger/Mimi with a pinch of Roger/April
Word Count: 434
Rating: PG
Genre: General
Summary: While Mimi's up on stage at the Cat Scratch Club, a man catches her eye.
Notes: for challenge 84 at speed rent. Set before RENT starts, around the time Roger meets April.
Special Thanks: Jonathon Larson
Spoilers: none
Warnings: none
Disclaimer: only in my dreams…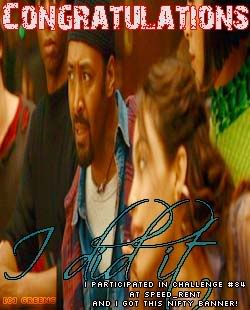 Mimi loved to be the center of attention. That's mostly why she decided to become a dancer at the Cat Scratch. All of the men loved her and she loved the confidence she immediately felt when she stepped on the stage.

Although she loved the men she danced for, she loved one man more. His short, bleached blonde hair made him the most attractive out of all of them. His eyes lit up when he watched her body sway with the music and he smiled from ear to ear.

She knew he was in a band; he had asked her one night after she had given him a private lap dance to come to one of his shows. She declined, saying she didn't want to get involved with her clients. The truth: she didn't want to get involved with her clients, but she did, however, want to get involved with him. She just didn't want him to think because she was a stripper, she was easy.

Mimi spent that night, dreaming about the mysterious rock star. As she dreamed, she began to rethink her decision about saying no to the man at the club. Maybe she should take a chance and see if she was ready for a serious relationship or maybe just a fun fling. After all, she hadn't had sex in about two months.

She walked into the Cat Scratch the next night and as she danced on the stage she kept her eyes on the entrance, waiting for him to walk in. He never came.

The next night she waited and watched again. And again he didn't show. Weeks past before he showed up at the club again, but this time he wasn't alone. He had brought a pale man with dorky glasses and a gorgeous woman with fiery red hair who hung all over her man. He was supposed to be hers not that woman he had in his arms.

Mimi was a competitive person and always got what she wanted in the end. But as the girl leaned down and kissed the rocker, she began to have doubts. Maybe he was just interested in a one night stand and once he realized he wasn't getting it from her, he just went to the next available girl.

Even though she knew she probably didn't have a chance with the man at the club anymore, she still dreamt about him. And every time she danced on the stage at the Cat Scratch Club and the girl's lips crushed upon her dream man's, she wished she had just said, "Yes," to him when he had asked her to see one of his gigs. And when he stopped watching Mimi dance on the stage, and instead watched the girl in his lap, she knew her dream would never become a reality.